Are you ready to consider a career as a commercial helicopter pilot? This is a career path many people ponder but often consider it too difficult to achieve. The first question our admissions team gets asked is, "How do I get started?" So, let's tackle some of those questions and walk through all the steps to getting started on a career as a helicopter pilot. I will also outline the training program and some of the key considerations for getting into this career.
At Hillsboro Heli Academy, we have over 40 years of experience training professional pilots which is unique in this industry. There are few helicopter flight schools in the United States that have the experience and powerful reputation that our school possesses. It's this experience that gives us some good insight into how to help people not only obtain their helicopter pilot ratings and certificates, but also how to also use that knowledge to pursue a career in the helicopter industry.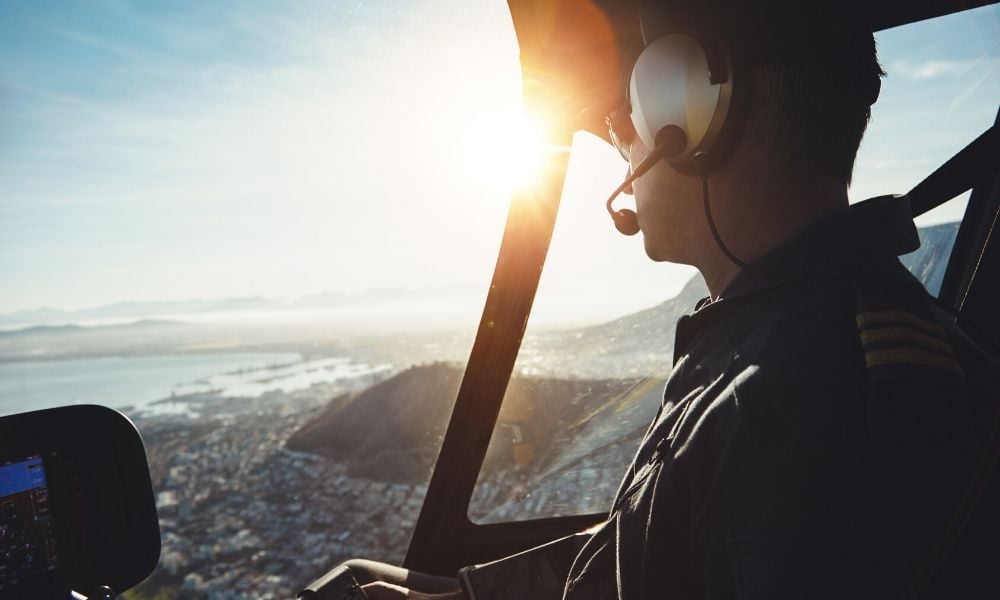 Pilot Career Considerations
Training commitment – To move through your training efficiently, we recommend that you commit to being a full-time student and attempting to complete five activities per week. While I know that's a big ask for most people, it is what we have found leads to the most successful training. That consistency lends well to learning concepts more quickly and keeping momentum in your training. It also often means you spend less money overall because you can maintain a consistent training pace improving learning which means fewer lessons that have to be repeated versus when you take longer breaks between flight activities.
Flexibility – While fight training requires flexibility as schedules shift due to maintenance and weather, the career of a helicopter pilot also requires a great deal of flexibility. Some operations are only done in certain parts of the country, and some require unique schedules such as 14 days on, 7 days off, or require remote work during fire season. It's an important thing to consider as this career can require quite a bit of travel and the ability to relocate quickly. The schedule of most helicopter pilot jobs can be unusual, so we want to make sure prospective students are aware of this before they decide on this career path. This need to be flexible and adaptable can also be seen as dynamic and adventurous which is what draws a lot of people to this career.
Medical requirements – As you may already know, you will need to obtain an FAA Medical Certificate to proceed with your flight training and to work as a commercial pilot after you graduate. Our admissions team can walk you through the process of obtaining a medical and recommend a medical examiner who can complete the evaluation. It is good to obtain a medical prior to starting training to ensure there are not any medical reasons why you could not become a helicopter pilot. Also, it's important to know that there are weight restrictions for our aircraft. Hillsboro Heli Academy primarily trains students in the Robinson R22 which is the most common training helicopter used around the world. There is also an FAA regulation that requires you have at least 50 hours flying in the R22 if you are going to instruct in it, as since it's the most common aircraft, the chances are high that if you work as a flight instructor you will be flying the R22. The R22 does have weight limitations. For our school, you cannot be over 220 pounds and fly in the R22. This is something you need to consider if you are over this weight and wish to fly the R22. We do own an R44 which can be used for training, but the cost is significantly higher, and you won't meet the 50-hour requirement to instruct in the R22.
Next Steps Once You Decide This Career Is For You
Speak with our admissions team - The first thing you need to do is contact our admissions representative Malori Wagner at 503.726.3000 or mwagner@flyhaa.com to discuss the specifics of our training program. She can walk you through all the required ratings and certificates needed to achieve your dream career path. She can also discuss our career partners, financing options for those who qualify, and student visa information. Malori also hosts an information webinar every other month which you are welcome to attend to get a better understanding of our program. You can register here for that webinar. We can also arrange for a campus tour if you are local to the area.
Apply - Once you have all your questions answered and are ready to enroll, you need to apply to Hillsboro Heli Academy. We have an online application which can be found at flyhaa.com/apply. When you fill out the application form, you will be asked to upload some required documents:

Proof of citizenship – Valid signed passport or for US citizens you can also provide a birth certificate and driver's license
Proof of education - There are three options for proof of education: Copy of high school diploma equivalent of a U.S. high school diploma or GED, copy of college diploma from an accredited university in English or including a translation, or take the Ability to Benefit Test and pass meeting HAA standards. The test consists of two sections, one math and one verbal.
Financial verification (international students only) – International students must show that they have the majority of the funds needed to cover the cost of training and living expenses for 12 months available to them as a liquid asset in some type of bank account. Submitting copies of a current bank statement often meets this requirement, but they must be in English. If the training is being paid for someone other than the applicant than a signed letter of support must accompany the financial statements.
English proficiency (international students only) – Applicants are required to be able to read, write, speak, and understand English to qualify for a visa so our admissions team will conduct a phone interview to determine if the applicant's level of English meets the requirements.

Pay student fees and apply for TSA - Once you application has been submitted and reviewed by our team, you will receive a letter or acceptance or decline. For those accepted, you will be assigned a program start date and asked to pay our registration fee of $150 USD. International students will also have to pay a $300 USD application processing fee to cover the cost of the extra work to review documents and verify requirements. Accepted international students and Green Card holders should also begin the TSA training request application process. Students must start this process and get documentation accepted prior to Hillsboro Heli being able to issue your I-20, which is the document you will need to make a visa interview appointment. The international student admission process can be complicated since it involves many additional steps, including the visa interview, but our admissions team at Hillsboro Heli is available to assist you as you move through this process and answer any questions you have. We have enrolled thousands of international students and are knowledgeable about the process.
Attend new student orientation – We hold new student orientation on the 1st and 3rd Wednesday of every month. This is an important event to attend as it is your first introduction the school, our processes, our safety system, and your fellow classmates. You will also get a chance to meet your flight instructor who will be your guide through the entire training process and a valuable resource for any questions or support you need during your training.
Start flying – You will work with your CFI to set up a schedule for your training that will hit your goals and timeline. And then you can start flying and building hours toward your future career as a helicopter pilot.
Required Training as a Helicopter Pilot
If you plan to become a professional helicopter pilot, we recommend you enroll in our Professional Pilot Program which contains all the ratings and certificates needed for your future career in aviation. Here is a detailed breakdown of the courses included in our Professional Pilot Program.
Private Pilot Certificate – This is the first step in any student's training and essential for building the foundation you need for additional ratings. During this course you learn how to conduct basic helicopter operations, cross-country navigation, radio procedures, airport and heliport operations, and proper aeronautical decision making. After demonstrating you have mastered these skills and displayed sound judgment, you will complete your first solo flight in the helicopter which is a flight with no instructor on board. It's just you in control of the helicopter. This is a significant event in your piloting career and one you will remember for the rest of your life.
Instrument Rating – This rating is all about learning how to fly the helicopter based solely on the instruments and is becoming more valuable in the helicopter industry as new aircraft applications are realized. This rating will allow you to fly safely in low visibility conditions in addition to learning advanced approaches, basic attitude flying, and instrument cross-country procedures. The diverse weather in the Pacific Northwest, where our campus is located, makes for the ideal training ground to build these instrument skills.
Commercial Pilot Certificate – This is the rating that will allow you to be paid for your work as a helicopter pilot and hone your piloting skills in preparation for your first commercial helicopter pilot job. In addition to learning how to fly professionally, you will learn advanced aerodynamics, commercial rules and regulations, helicopter power management, and pinnacles and confined areas.
Certified Flight Instructor Rating (CFI) – The first job for most pilots is working as a flight instructor to build the flight hours required by commercial operators. In the helicopter world, that often means 1000-1500 total flight hours need to be obtained before you can apply for entry-level pilot positions. During the CFI course, you will learn how to become an effective teacher so that you can properly instructor and evaluate your future students. You will learn how to provide ground and flight instruction in addition to understanding common student mistakes and how to correct them.
Certified Flight Instructor Instrument Rating (CFII) – In addition to the CFI, many students obtain the CFII which allows them to teach students during their instrument training, both for the flight and the ground training. Getting this supplemental instructor rating allows a CFI to work with a wider range of students and build flight hours more quickly.
In addition to the Professional Pilot Program, Hillsboro Heli Academy also offers specialized training such as mountain flying and external load, which are valuable to skills depending on the operations you wish to perform in your future career.
If you wish to learn more about any of these courses and the required hours to complete them, please visit our helicopter courses webpage.
Training Aircraft & Location
Our flight training is conducted in the Robinson R22 and Robinson R44 helicopters. The R22 is widely recognized as the ultimate training helicopter. While it is small, it is also responsive, safe, and dependable. We also have on-site maintenance who oversees all our aircraft and can answer any questions that student pilots or instructors have about the operation of a particular aircraft.
Our helicopter training is done at our campus in Troutdale, Oregon located between Portland, Oregon, and the beautiful Columbia River Gorge. This location is ideal for training as it provides students with a variety of weather and terrain in which to hone their skills. There are numerous areas close to campus which are excellent sites for an off-airport landing. In addition to be an ideal environment for training, the Pacific Northwest is a wonderful place to call home. It is a recreational playground for those who love to mountain bike, windsurf, kiteboard, and ski. And it's just 11 miles to the city of Portland where you can enjoy incredible food, eclectic music, and more microbrews than you can count. The combination of these two factors makes Troutdale a wonderful place to live and train, enabling our students to build relationships that will last them a lifetime. Our alumni network spans the globe as we have graduates who fly for operators around the world in variety of industries. We have an online group that you can join, once enrolled at Hillsboro Heli Academy, that connects our students and alumni.
Helicopter Training Duration and Cost
The Professional Pilot Program takes about 12-15 months to complete if you are a full-time student which means you participate in at least five activities per week. Once you complete all the ratings in this program you will have about 200 flight hours in your logbook. This is important because SFAR 73 requires that you have at least 50 hours of R22 time and at least 200 hours in a helicopter in order to instruct in the R22, which is the path the majority of our graduates take.
The program cost is about $78,000 USD which includes the private, instrument, commercial, and CFI courses. If you wish to obtain the CFII rating, it's about $5,000 USD more. These cost estimates are based on historical averages for our students so note that actual costs may vary. We use historical averages and not FAA minimums for our pricing as we feel it is a more accurate representation of what you will actually pay. You can see a further breakdown of the costs for each rating at www.flyhaa.com/helicopter-rates.
We do have financing options available to those who qualify. You can read more about these options on our website or our admissions team would be happy to discuss them with you. You do need to be a US citizen or have a US citizen as a cosigner for all our current financing options.
Career Path of Professional Helicopter Pilot
After you complete your training, it will be time to start your career as a professional pilot. I will breakdown the typical career path many pilots take upon completion of their flight training.

Step 1 – Flight Instructing
Once you complete your training and have achieved 200+ flight hours, the next step most pilots take is working as a flight instructor. This is the best way to build flight hours from the about 200 hours you have when you complete training to the 1000-1500 hours you will need for most commercial operations. Flight instructing is a very rewarding and challenging opportunity to develop airmanship skills and aeronautical knowledge and experience.
Step 2 – Tour Operations
The next step is often flying tour operations in locations such as the Grand Canyon, Alaska, Hawaii, or other tourist destinations. You continue to improve your skills while flying consistent, pre-determined routes with few variables gaining 1000-1500 hours of turbine helicopter flight time.

Step 3 – Charter & Utility Operations
From tour operations, pilot usually move onto career options that require a more knowledgeable pilot with sufficient experience. These jobs include charter, corporate transport, offshore support, electronic news gathering, and other utility operations. Pilots who fly these types of jobs need to be able to adapt to changing conditions and respond quickly in challenging environments.

Level 4 – Advanced Utility Operations
The progression to jobs such as aerial firefighting, law enforcement, and heavy-lift operations requires the most experience because of the challenging environments in which they operate. These careers are often viewed as the pinnacle and desired by many pilots. Pilots in these jobs must possess the skill and experience to adequately manage and make the best decisions in unpredictable situations.
Remember that this is just an example of the standard career progression and that there are several paths people take to different helicopter jobs during their career. The important thing is finding a job or an industry segment that you love and is fulfilling for you. The helicopter industry continues to grow and change as new uses for helicopters are developing, such as wind farm support. Many new industries are just realizing the value helicopters can provide so new opportunities will continue to be developed.

Our team at Hillsboro Heli Academy can help answer questions about the career path and even put you in touch with some of our alumni working in a variety of operations. It can also be helpful to visit JSfirm.com and review helicopter pilot job postings to get an idea of the kinds of pilot jobs that are available and the requirements.
I know I have presented a lot of information regarding helicopter pilot training and the helicopter career path which can seem a bit overwhelming. But the first step is easy if you wish to become a pilot is to contact us at Hillsboro Heli Academy. Our admissions team would be happy to meet with you in person or via Zoom to answer all your questions. You can reach us at info@flyhaa.com or 1.503.726.3000 to take the first step toward your new career today.