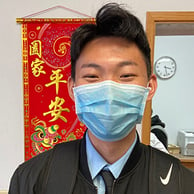 For the month of February, Gongju "Luke" Zhang has been selected as our Student of Excellence Award winner. Luke is an airplane student at our Redmond Campus who came to Hillsboro Aero Academy in 2020 to pursue his aviation goals and is close to completing the training program.
Read what his instructor and program manager have to say about him:
"Grit, determination, and professionalism are hard to teach. I noticed these traits right away during the first stages of private. I knew Luke would make a great pilot. Not everything came naturally to him, and sometimes he made some mistakes. However, the greatest students, and pilots, are those that use the mistakes to propel forward and learn. In only seven months Luke went from student pilot to commercial pilot; the first of CEA18C to achieve the coveted rating. the majority of those months was spent as top gun of CEA18C. I wish Luke all the best on his future career with China Eastern Airlines. I am proud to say Luke was one my best students I have had the pleasure of teaching," said his flight instructor Luc.
His program manager said, "Luke was great to have on campus even if it was for a short time. He always demonstrated a great attitude even when he needed to own up to his mistakes. You can sense a passion for aviation by his work ethic and study habits. He finished his training 12 hours short of the required 230 hours required for him to graduate and go home. He leaves RDM with a 100% check ride pass rate. For these reasons and more Luke has stood out to us as a student of excellence."

Please join us in congratulating Luke on his award.