Wonkyung 'Zoe' Lee is a student you can find almost 24/7 at our Redmond Campus as she is both an airplane flight training student and employee in our line service department.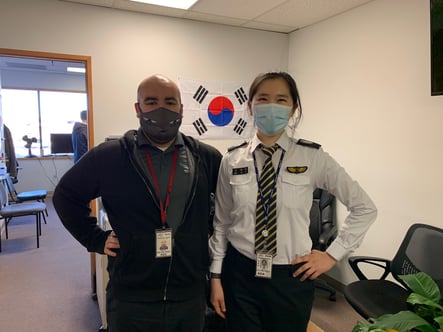 She joined our flight training school in December 2019 from South Korea and is currently working on her commercial single rating. Zoe is extremely passionate about her flight training and also very dedicated to her line service work. In the morning, you will see her out on the ramp fueling aircraft with a big smile on her face. During the day, she can be found in the briefing room studying her ground knowledge or practicing an approach on the touch-trainer.
According to her flight instructor Byeong Jun Jeong, "Zoe always studies hard, prepares for lessons well, and never stops to ask questions. Her strengths in flight are professionalism, airmanship, flight planning, and task management. Not a surprise having a first attempt pass on her IR check ride recently. Great job!"
Please join us in congratulating Zoe on her tremendous effort as both a student and employee as we recognize her as our Student of Excellence for this month.