Chris O'Brien came from Pennsylvania to join our airplane training program. He is currently working on his Certified Flight Instructor Rating. Hear what he has to say about his dream job and his training at Hillsboro.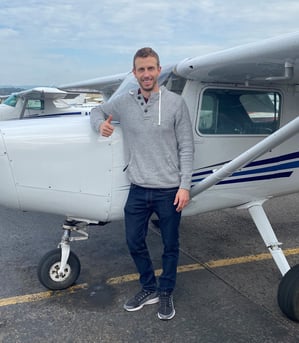 1
.
Why do you want to be a Pilot and what's your dream job?
I want to become a pilot because nothing has ever piqued my interest more than aviation. I remember as a kid my family made a trip to Disney World, it was my first time flying, and I remember being more excited about the plane ride than meeting Mickey Mouse! My dream job is to be an airline pilot and fly for Alaska Airlines.

2. What can a potential student expect when starting school?
I started from zero time in HAA's Professional Pilot Program and the staff and instructors are incredibly helpful and understanding. In the world of aviation there is a ton of information and study material out there and it can seem overwhelming at times, but the instructors here do an excellent job setting you up for success. You can expect to have lots of questions during your training, that's a good thing. The staff and instructors are right there with you every step of the way. Whether your starting from zero time like me or just doing some type of add-on to your current pilot certificate, you can expect HAA to provide you with high quality training.

3. What is the daily time commitment to becoming a pilot?
The daily time commitment often depends on what stage of training you're in. As a new student, I had ground school 3 days a week for 3 hours each session and then flying lessons 2 to 4 days a week depending on weather and my availability. It's always a good idea to set aside time to study and review what you've learned in your lessons before your next lesson. I commit to about 15 to 20 hours per week for my training, some people might spend more and some less. I think the most important thing is to find a balance that's right for you.

4. What is your favorite part of the training at Hillsboro?
My favorite part of the training at Hillsboro is the opportunity to fly and gain experience in such diverse weather and terrain. The Pacific Northwest provides you with amazing flying experience and some of the most beautiful views. Also, Hillsboro is a towered airport which will helped me sharpen my communication skills with Air Traffic Control.

5. Why did you choose Hillsboro?
I chose Hillsboro because I feel like the staff and instructors are genuinely interested in helping their students succeed. Hillsboro is also an FAA Part 141 school which is preferred by airlines.

6. What are some of the biggest challenges when learning to fly?
The biggest challenge for me was was my landings. Flying, just like any other skill, requires time and practice to develop. You can't expect to learn everything overnight. The best thing you can do to get the most out of your training is to come to each lesson prepared and be open to feedback from your instructor. Also, chair flying has been a big help for me.

7. Outside of school, what does Oregon offer as far as social life?
Oregon has something for everyone. There's no shortage of places to visit for outdoor activities like hiking, camping, fishing, etc. Hillsboro is only a short drive or train ride away from Portland which has more food trucks than any city I've ever been and they're all good!