When you join the commercial helicopter pilot training community, one of the first things you'll notice is just how small this industry really is. There are about 15,000 commercial helicopter pilots working in the USA today. Compare that to the number of teachers, estimated at about 3.2 million, and you get a clear sense of why helicopter pilots often refer to their community of fellow pilots as "tight-knit" — it can feel at times like everyone knows everyone else working in the industry, and that feeling of camaraderie is a big part of the job appeal.
In small communities, reputation is everything, because the connections you make on the basis of reputation form the ladder of your success. Because we've been in business for 40 years and have trained thousands of helicopter pilots, both domestic and international, our reputation stands out among helicopter pilot training schools in the USA. But our location is a factor in that reputation too: with five of the largest commercial helicopter operations in our own backyard, the Pacific Northwest is truly, as our Admissions team likes to say, "The Home of the Helicopter."
This concentration of helicopter companies in our region has value for our students in several ways. We have been able to arrange tours for our students in order to give them inside perspective on helicopter operations. Our students also get opportunities to "meet" the commercial aircraft they'll fly in their dream careers; in the photo below, our students get an up-close view of a Sikorsky UH-60 that local commercial provider Timberland Helicopters flew in.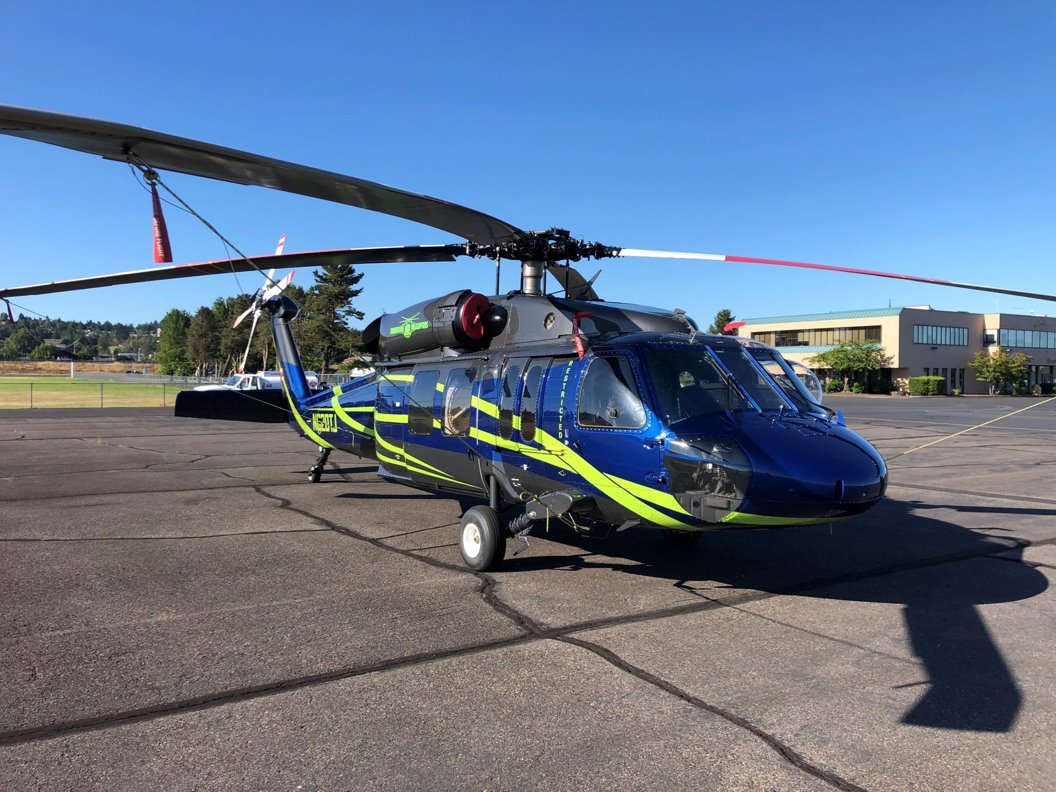 Most importantly, these regional connections make us unique among helicopter pilot training schools in the USA because they provide us with lots of "handshakes," i.e., opportunities to introduce our talented graduates to potential employers. And because our students are trained in the "if you can fly here, you can fly anywhere" conditions of the Pacific Northwest, they are attractive candidates both for these regional recruiters as well as global ones.
So who are these regional players who make up The Home of the Helicopter? Let's take a brief look at just a few of the prominent ones:
Based in Ashland, OR, Timberland began as a contract logging company and quickly expanded to included every kind of helicopter operation, from private charters to aerial photography to aerial seeding and firefighting, to emergency medical services.
Based in Aurora, OR, Columbia also got their start in logging operations and is now a global operator of heavy-lift helicopters with a focus on transportation of construction materials. Other services include military support, petroleum exploration, and firefighting, in addition to helicopter maintenance.
Based out of Florence, OR, Apex provides helicopter tours of the rugged Oregon coast as well as the rolling hills of Oregon wine country, but also provides a range of commercial services for the private and public sectors, including firefighting, external load operations, air taxi, and a variety of agricultural operations, such as fertilizing and frost control.
HTS, aka Helicopter Transport Services, operates its heavy lift division out of Corvallis, OR with a diverse fleet capable of managing the heaviest external loads. Services also include aerial fire suppression, aerial services and support to the petroleum industry.
Portland-based Erickson stands out on our list as one of the very few helicopter operations companies in the world that also manufactures helicopters. Erickson is known for its heavy-lift S-64 Aircrane, a major workhorse of firefighting operations around the world due to its large tank capacity. Erickson also provides services globally that include firefighting, external load operations, petroleum exploration support, and much more.
As you can see, the sheer number and diversity of helicopter employers right in our backyard makes us unique among
helicopter pilot training schools in the USA
. But it's just one factor that makes our location special. Next week I'll talk about another: the exceptional fight environment that adds something to both the proficiency and the passion of our pilot alumni.