One of the questions we get asked most often in the admissions office is about the weather. People have heard about the rain in the Pacific Northwest and want to know how it will affect their training. We explain to them that it does impact their training, but not in the way they might expect. The diverse variety of weather you will experience during your pilot classes provides many very important benefits.
While the weather can prove challenging in the winter months, it is also what sets our school apart from so many others located in parts of the southern United States. The diverse flying conditions that Oregon has to offer provide the ultimate learning experience for people looking to hone their piloting skills. The variety of weather conditions you experience give you the chance to make real "Go/No Go" decisions using tools and knowledge gained during your training. Students work closely with their instructors and the Chief team to determine when a flight is safe to take place based on the changing weather patterns, their destination, and experience level. It is these types of decisions that help prepare our students for the commercial pilot world.
The valuable experience that our students gain with the variety of Oregon weather is the chance to fly in actual instrument conditions. While many schools must simulate this experience by having students solely fly under the hood, here in Oregon our students can fly into actual clouds. Not simulated, but actual real time flying in low visibility conditions. Our graduates and instructors often speak about how this experience is one of the most important training tools and is what best prepared them for their future piloting career. This is the type of experience that many airlines are looking for and having the opportunity to list these skills on your resume is extremely valuable. Listen to one of our instructors talk about how the experience flying in Oregon differed from the experience he had flying in Arizona during this training.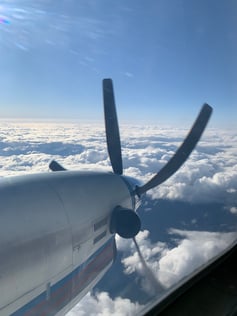 As a flight academy, our job is to provide our students with the most realistic experience in the cockpit possible, and we feel that flying in actual instrument conditions is essential when becoming a pilot. It is the experience that pilots will need, no matter their path, and it's better to have it during training than when you are flying a jet for the first time. In the training environment, you can ask questions with the support of an instructor and gain valuable knowledge that you will benefit from for your entire career. Our focus is on pilot training with job placement and ensuring our graduates have the skills to succeed.
If you are interested in learning more about the weather and terrain in the beautiful Pacific Northwest, we invite you to come to visit us for a tour or demo flight. If you are not local to the area, please consider signing up for one of our informational webinars to learn more about the benefits of flying at Hillsboro Aero Academy and what makes us unique. Our admissions team is also available to answer questions and you can book a phone meeting with our airplane admissions counselor to learn more and discuss your goals.