We at Hillsboro Aero Academy are mourning the sudden loss of our dear friend, colleague, mentor, and teacher Satoru Kamoshita, known to all of us as "SK." He had been with our school for 24 years but was taken from us far too soon, in a tragic drowning accident on one of the few days he spent away from his beloved flight school.Shortly before he died, I had been working with SK on a biographical article to celebrate his 40+ year career in aviation. In his characteristically modest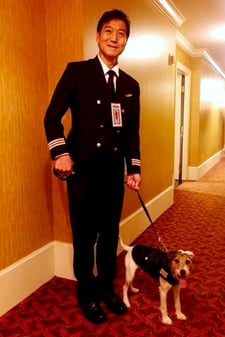 way, he was shy about being interviewed but proud of his legacy as the founder of our renowned Asia Program and as a legendary flight instructor. A relentless self-improver, he shared with me the autobiography he had been writing in order to enhance his English skills. By combining my notes with his, I am able to tell his story in a way that I hope does some justice to his profound impact on a generation of aviators.
SK was born in Tokyo in 1959, and the dream of flight took hold of him early on: he aspired to become a pilot from the age of five, as he watched planes ascend from the Tachikawa Air Force base near his home.
SK came to the US at 18 to begin his aviation training, and he struggled at first to find his way. His English skills were not yet strong enough for acceptance to Embry-Riddle Aeronautical College, so he put his flight dreams on hold. He studied mathematics at another college in North Carolina but felt out of place among his fellow Japanese students, who did not share his drive to master the English language. He accepted a professor's suggestion to study with American students and was able to improve his English enough to transfer to University of Dubuque's aviation program. He graduated from Dubuque and then went on to become the first Japanese student to earn a master's degree in aviation management from Embry-Riddle.
After a brief stint as a cargo pilot in Japan, SK returned to the US and settled in the Portland area. He got his first taste of flight instruction, first for Evergreen Aviation and later for Nippon Airways in Japan, before becoming a cargo pilot for Gambia Airways. He ferried the classic Japanese-made YS-11 plane to the Philippines and West and East Africa while also training local pilots to fly the plane. His experience with the YS-11 ultimately led to a position as the official pilot for President Soeharto of Indonesia, where both SK and his YS-11 found themselves ideally suited to the island nation's strong crosswinds and short runways.
When President Soeharto switched to a DC-9, SK returned to the United States, and eventually found his way to HAA, then known as Hillsboro Aviation. The school's founder, Max Lyons, recognized SK's innate teaching gifts and took him on as a flight instructor in 1997. SK went on to build our Asia Program into a vital part of our school while also gaining a reputation as a uniquely gifted flight instructor. He became known for his ability to help the most struggling students push past their challenges – a phenomenon known among countless pilots as "The SK Magic." He also promoted cross-cultural understanding among Asian and American students, creating an atmosphere in which diversity has flourished ever since.
As SK's renown among Asian pilots grew, so did the Asia Program he founded. His peerless reputation among airlines, schools, and pilots drew hundreds of students from the region each year. Remarkably, these young students would move halfway around the world to a small suburban airport in a little-known corner of the US just to study under this now-legendary instructor. Knowing that his students faced enormous pressure to learn, perform, and advance in their training, he always reminded them, above all else, to "enjoy flying."
SK was known not only for his gentle and patient manner with student pilots but also for his tireless work ethic. He often worked seven days a week, putting in long hours to give extra attention to struggling students. He also became an FAA pilot examiner, performing the check rides that are the milestones in each student pilot's journey to success. Hundreds of pilots today will remember SK as the smiling face beside them in the post-check ride photo commemorating their achievement.
Each time I met with SK, he told me that he was a good instructor because he was not a very good pilot. Anyone who flew with SK would disagree with his assessment of his own flying skills, but the comment reveals much about the man and his gifts as a teacher: in each struggling student, he saw something of himself, and he inspired in those students the same perseverance that led him to overcome so many obstacles. We honor him now for the ways in which he made all of us better, and we pledge to continue his legacy by inspiring, mentoring, and motivating our students while reminding them to always, "Enjoy flying."
…