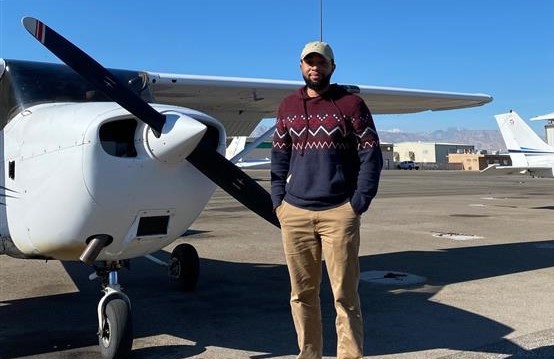 Derrick joined Hillsboro Aero Academy this year as a Liberty University student. This is what his instructor, San Park, had to say about him:

"It's a great pleasure of mine to train Derrick for his instrument training. He is one of the most passionate students I have had in my CFI career.

As a training manager for the U.S Air Force, Derrick has a tight schedule for his work and flight training. He requested to be scheduled every day and has never been late, even after an overnight shift. That's because he has and understands the qualities of being a good pilot.

First, he's patient. He knows it's easy to beat himself up about mistakes in flight training. Instead of being frustrated, he always maintains a positive attitude; therefore, helping him progress continuously through the training. Derrick has stated, 'Learning new things can be very stressful at times. In the end, being confident in my abilities as a pilot is what's important to me--so I'll take the stress now so that I'm confident later.'

Second, he knows the importance of keeping the pace of the training. It's difficult to fly and study while working at a full-time job. But he's eager to fly as often as possible because he knows the frequency of the training has a huge impact on developing his flight skills.

Derrick said, 'HAA has been a great learning environment. I'm really enjoying the structured approach and having a pace to my training.' I am certain that Derrick is going to continue to do great in his future career in aviation."

For his attitude and exceptional commitment to his training, we want to recognize Derrick as your Student of Excellence this month.