Joel Tiess is a helicopter student who came all the way from Germany to join our training program. See what he has to say about his dream job and why he selected Hillsboro for his training.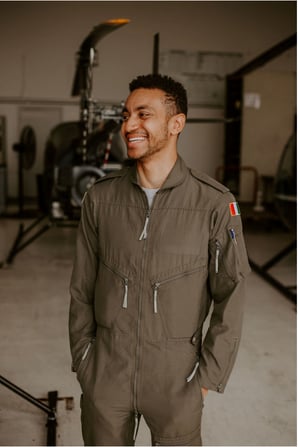 1
.
Why do you want to be a pilot and what's your dream job?

What fascinates me most about being a pilot is the fact that one needs to be an expert in many areas. In order to become a successful pilot you not only have to develop very good flying skills but also in-depth knowledge about meteorology, the aircraft's systems and aerodynamics.

My dream job is to work in EMS one day. I've already worked as a paramedic for one year and I think being an EMS-Pilot is a great opportunity to use your flying skills to help people in distress.


2. What can a potential student expect when starting school?
A well organized orientation day and very knowledgeable flight instructors who make your learning experience fun.

3. What is the daily time commitment to becoming a pilot?
You should consider this a full time job. It takes a lot of hard work and dedication to turn this dream into reality. Therefore, I can only highly recommend to be at school as often as possible and to fly as often as possible.

4. What is your favorite part of the training at Hillsboro?
The people. Everybody at Hillsboro Heli Academy, whether that be the CFIs, Dispatch, Line Service or just other students, are creating a learning environment which is fun, welcoming and safe. Everybody is very eager to help you with any kind of problem and the school ensures that you will progress as quickly as possible in your training.

5. Why did you choose Hillsboro?
A major factor for me was the school's reputation and the partnership between Hillsboro and ADAC. The school ensures that we receive proper training and are proficient enough to be able to work as Helicopter Pilots in EMS.

6. What are some of the biggest challenges when learning to fly?
Probably hovering for the very first time. Especially in the beginning the workload for a student is very high and one needs to get used to that first. Many things happen simultaneously and a lot of control inputs need to be applied at the same time. But eventually it becomes easier and easier with every flight.

7. What is your favorite thing about the Pacific Northwest?
My favorite thing about the Pacific Northwest is that I get the opportunity to fly in difficult weather conditions. This might be fairly challenging at first (especially when you're a Student Pilot) but will definitely pay off in the long run because this exposure will make you more proficient. Apart form that, Oregon has a breathtaking scenery to offer and many places which are worth a visit: Mount Hood, Portland, the beach.