Pablo is a student who at 17 decided that being a helicopter pilot was the career path he wanted to pursue so he joined Hillsboro Heli Academy's Professional Pilot Program in 2020.

Why do you want to be a pilot and what's your dream job?
Like a lot of children, I wanted to become a commercial pilot and fly huge planes around the world. I had a lot of video games with planes and even some simulator games. I was sure I would become a pilot in the future, but it wasn't until I was 17 years old that I decided to become a helicopter pilot. I realized that helicopter pilots have more control over the aircraft than airline pilots which is why I decided to do helicopter training. Before starting the program, my dream job was to join the Air Force, but that was very difficult in my home country so I decided to start training in the USA which is cheaper and easier to start. My dream jobs, right now, are probably EMS or search and rescue, but I'm still in the beginning of my training and have lots of questions about basically everything. One thing that I know for sure is that I will be able to choose from a lot of different jobs in this industry which is something that I love about becoming an helicopter pilot.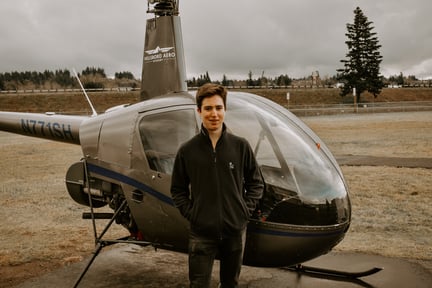 Why did you choose Hillsboro?
I did my last year of high school here in Portland so I decided to search a few academies near me. Hillsboro was one of the first I visited. They helped me with everything, from my visa to what I needed to do before my first day of training. They even helped me search for an apartment and a roommate close to the academy. The school offers a lot of services to its students, such as the EASA program, which is required if you want to be a pilot in Europe. They also have a really big fleet of helicopters to fly, including an R44.

What are some of the biggest challenges when learning to fly?
At the very beginning in your first flight it appears almost impossible to be able to fly the helicopter. There are too many inputs at the same time, pedals, collective, cyclic, check the instruments, hover, which is one of the biggest challenges that a helicopter pilot must overcome. But at the end it only takes experience and flight hours. After 10 to 15 flight hours, flying becomes much more fun and interesting!

What can a potential student expect when starting school?
As I imagine with most students at the academy, I had a lot of questions at the beginning of training. One of my biggest fears was if I would have a good flight instructor. After flying with 4 different instructors, I can tell you that you won't find a bad instructor here at Hillsboro. Another very useful thing for me was watching videos on YouTube and reading articles about pilot training, not only during the training, but also before starting the program to make understanding basic concepts about helicopters and aviation easier to comprehend. I recommend asking a lot of questions to your instructor or to other students if you don't know something, they will help you. It will be easier for you to understand how the academy and the training program work.

What is your favorite part of the training at Hillsboro?
My favorite part of the training at Hillsboro is the people; instructors, students, line services, mechanics, and even the people in the administration. Everyone here is going to help you in any way they can, not only about things about aviation but also personal things. Hillsboro has students from all over the world with a lot of different backgrounds.

Outside of school, what does Oregon offer as far as social life?
Oregon has everything you can ask for in a location for helicopter training. You experience every type of weather (hot summers, cold winters, calm and windy days with low or high clouds) and there are beautiful landscapes, huge mountains, and amazing beaches. There are also a lot of rural towns and big cities like Portland. You are also fairly close to Seattle and San Francisco, two cities that you must visit. But you don't need to go that far, only 10 minutes from the airport you have a lot of places to go hiking near waterfalls or you can visit the incredible Columbia River Gorge.