Part 141 and Part 61 are two different ways to approach your training. Both FAR Part 61 and Part 141 training demand the same minimum standards for you to get your pilot certificate, but FAR Part 141 is more methodical and refined.

Flight instructors approved by the FAA can train you under FAR Part 61 anywhere—whether they're attached to a flight school or not—and they can follow their own method.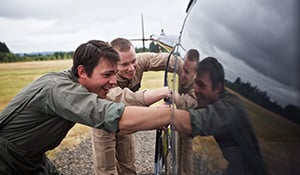 FAR Part 141 training is given through approved flight training schools, like Hillsboro, whose course curriculum has been reviewed and approved by the FAA.
Part 61 also has higher flight hour requirements than Part 141. For example, if you do a Part 61 private for your helicopter training, you are required to have 10 hours of solo time, whereas Part 141 only requires 5 hours of solo time. Likewise, a Part 141 Instrument Rating requirement is only 35 hours whereas under Part 61 it is 40 hours, So there are some benefits to Part 141 that can help reduce the overall cost of your flight training
.


The reason Part 141 hour requirements are lower is due to the fact that the school and its TCO are both approved by the FAA. Our schools Part 141 TCOs were developed taking into account years of experience training thousands of pilots to ensure maximum operations efficiency.


Part 141 flight schools are required to maintain an 80% check ride/written test passs rate in its 141 program. Schools unable to maintain the 80% pass rate risk losing their 141 approval.


At Hillsboro Aero Academy and Hillsboro Heli Academy, we are able to offer you
professional pilot courses
under both FAR Part 61 and FAR Part 141. Our admissions team would be happy to meet with you to discuss your goals and help create a training program to meet those goals. They can be reached at 503.726.3000 or
info@flyhaa.com
.