Whether you've been dreaming of becoming a professional pilot for quite some time or have recently become interested, it is important to know exactly how many years it will take to complete flight school. In this post, we will review the duration of each flight course to help you understand what exactly you can expect during your time at flight school. After reading this blog, we hope you will have a better understanding of the factors that affect the duration of flight school and answer the question, "How many years is flight school?"
At Hillsboro Aero Academy, we have two training paths in our Professional Pilot Program to ensure every students has an option to help them best meet their goals. Our Airplane Professional Pilot Program is a complete training course that includes Private, Instrument, Commercial and Certified Flight Instructor certificates to better prepare students for their professional career in aviation. In addition to these certificates, we offer Certified Flight Instructor Instrument (CFII) and Multi-Engine Instructor (MEI) ratings with the intent to help flight instructors gain additional knowledge which will allow them build flight hours more quickly.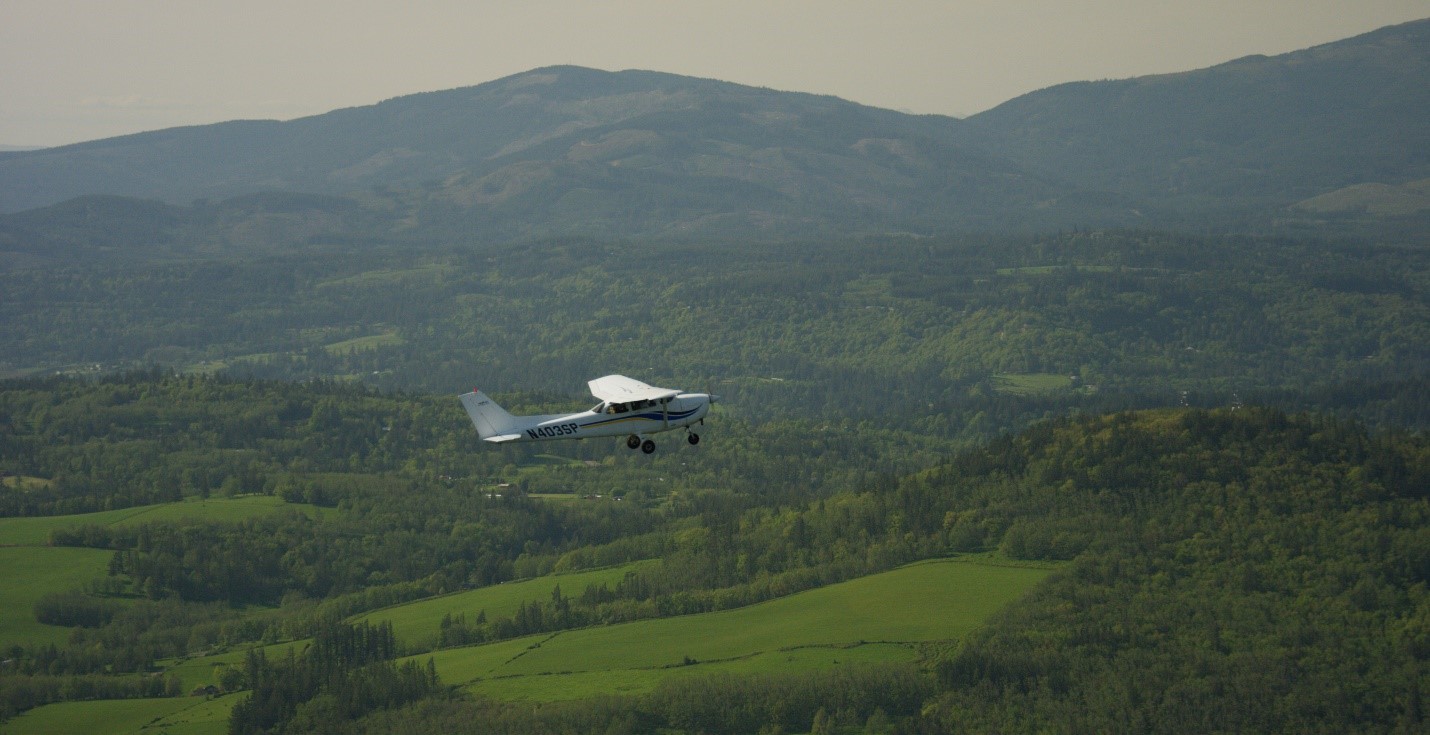 How Many Years is Flight School?
As mentioned, we have two training tracks in our program available for students based on what is right for them.
When it comes to flight school, we don't have a set number of years, instead the timeline is broken into how long each rating and certificate takes to complete. Our Standard Track is designed to be completed within 16-18 months whereas our Accelerated Track can be completed in as little as 10-12 months. There are many factors that play into the time to completion for each track but the biggest factor is how much time a student is willing to commit to their training per week.
You can see a further comparison of the two tracks on our website.
Professional Airplane Pilot Timeline: Standard Track
The Standard Track allows for completing ratings and certifications at a slower pace with more flexibility in a student's schedule. The program includes Private, Instrument, Commercial, and Certified Flight Instructor certificates as well as our additional flight instructor ratings, the CFII and MEI, necessary for a professional pilot career. Students should make themselves available 5 days per week to be scheduled for 4-5 activities per week and will complete their training with an average of 246.50 flight hours. Activities can be either ground training, simulator lessons, or flights lessons. Through each flight training course, you will develop skills and gain experience that will build a foundation for your career in the aviation industry.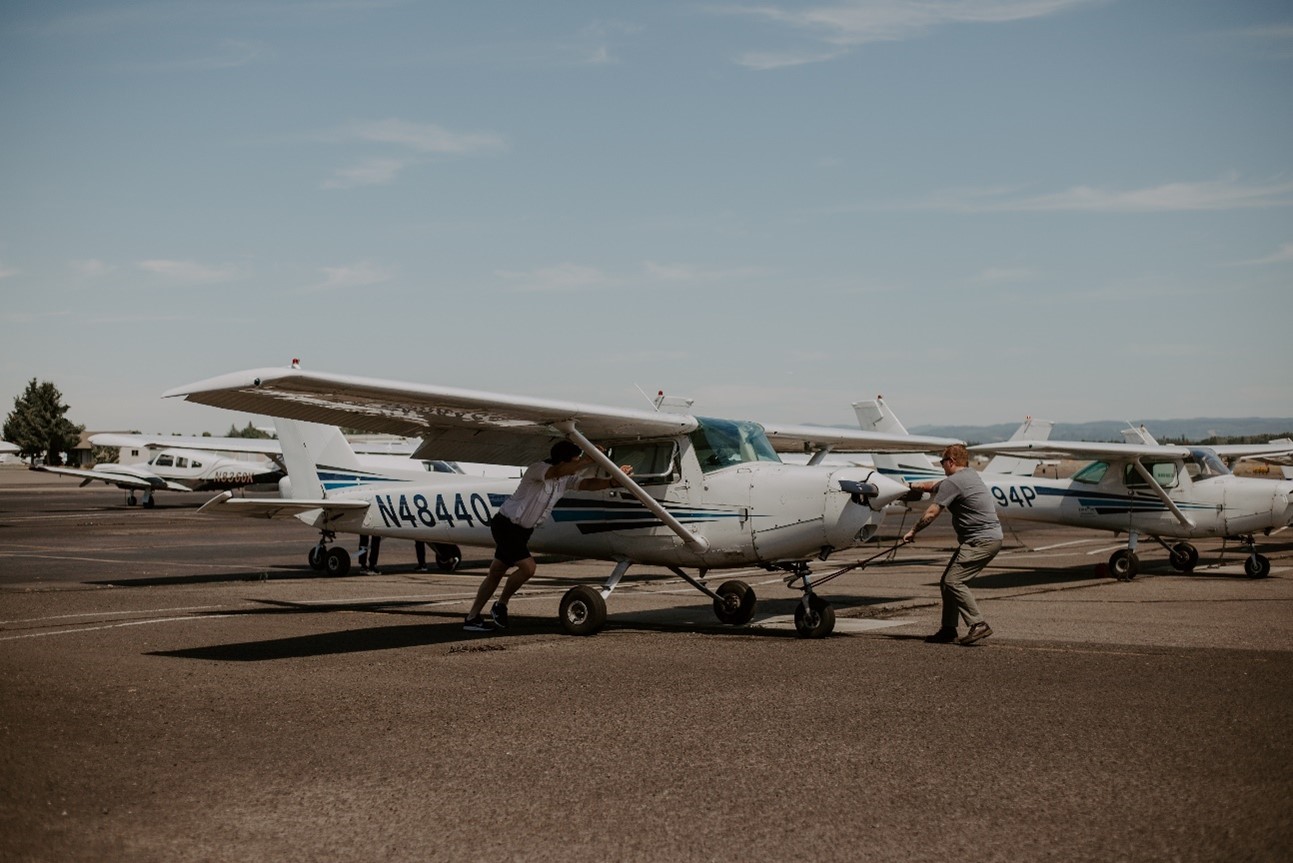 Private Pilot Certificate: Your First Pilot License
The beginning of your pilot career starts with working to obtain your Private Pilot Certificate also known as the PPL. This certificate is the first milestone and earns students their first FAA Private Pilot Certificate.
Holding a private pilot certificate allows you to fly for fun and reaction and takes an average of 4 months to complete on the standard track. This training course includes both ground and flight lessons which you will need to complete in order to take the final examination, the FAA check ride.
The PPL ground courses is structured to have students complete 30 hours of ground theory covering airplane components, airspace, FAA regulations, and more. While students are completing their ground lessons, they will also begin their flight training.
During the private stage of flight training, students will learn the basic maneuvers, flight preparation (pre-flight and procedures), take offs and landings, post flight procedures, and more. Once you pass the check ride, you will be able to fly recreationally, but if you are looking to turn your flying into a career you will continue in our program to the Instrument Rating.
Instrument Rating: Training in Low Visibility Conditions
The next step after your private pilot certification is to learn how to fly in low visibility conditions. Flying in IFR conditions is an essential skill to have mastered for your professional career.
Regardless of the weather you are expecting during your flight, instrument skills equip you with to knowledge and tools necessary to safely fly in low visibility conditions. The FAA minimum requirements for the Instrument Rating are 30 hours of ground training and 35 hours of flight.
Topics covered during this course range from flight instrument systems and ATC systems to instrument approaches and navigation systems. If a student commits themselves to completing 4-5 scheduled activities per week, the Instrument Rating can be done in 4 months.
Commercial Pilot Certificate: Professional Milestone
Now that you're 8 months into becoming a professional pilot, it's time to learn the advanced maneuvers and skills that are required for airline pilots and other commercial pilot jobs.
The FAA requires at least 35 hours of ground training covering commercial standards, passenger considerations, advanced navigations, and more. For the flight requirements, the FAA's standard requires 120 flight hours covering the same topics but putting them into practice.
The average completion time for this rating is 4 months with dedication in being actively scheduled 5 days a week. Whether your dream is to fly a Boeing 747 for an airline or fly cargo operations, you'll be required to hold a Commercial Pilot Certificate (CPL) to be eligible for hire.
Certified Flight Instructor (CFI)
At this point, you're roughly a year into your flight training and are officially a commercial pilot. Technically you have the necessary skills of a commercial pilot but most jobs require at least 1,500 flight hours to be eligible for the position.
By the end of the Professional Pilot program, you will have an average of 246.5 hours, but you need to bridge the gap between that number of hours and the 1,500 needed to take the next step in your career. At Hillsboro Aero Academy, we offer the Certified Flight Instructor (CFI) Rating that prepares pilots to become instructors and mentors to new student pilots.
Obtaining this certificate would certify you to teach others how to become a professional pilot and gives you the opportunity to build more flight hours as a commercial pilot. This Certificate takes about 4 months as well and requires at least 40 hours of ground and 25 flight hours.
Two additional ratings we offer here at Hillsboro Aero Academy are the Certified Flight Instructor Instrument (CFII) Rating and the Multi-Engine Instrument (MEI) Rating. The CFII Rating allows pilots to combine the skills from their CFI training and instrument training to teach other students how to fly in Instrument conditions. This rating is based on proficiency and takes about 3 weeks to complete. The Multi-Engine Instructor Rating is also combining the knowledge of CFI training but with multi-engine training to teach other pilots how to fly in a multi-engine aircraft. This added rating is also based on proficiency and takes an average of 3 weeks to complete.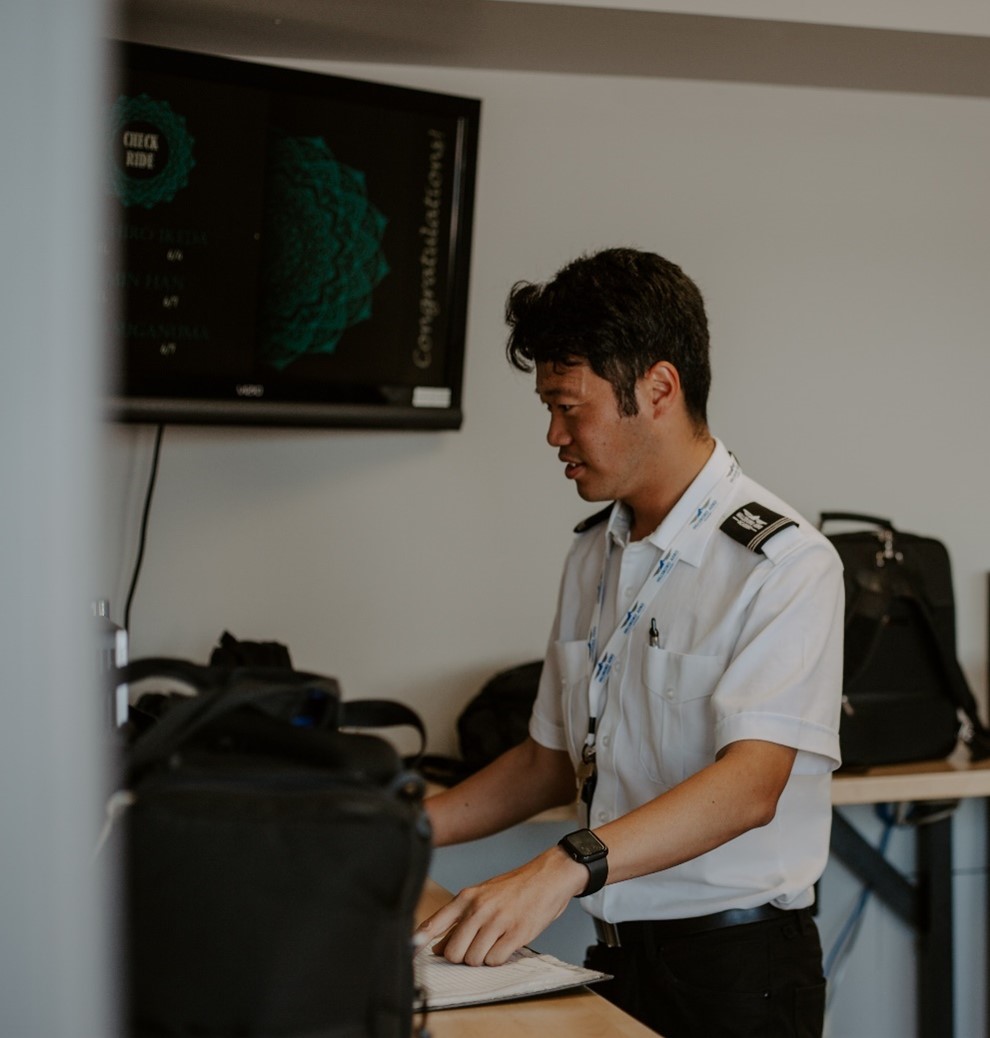 Professional Airplane Pilot Timeline: Accelerated Track
Our Accelerated Track offers the same courses and training as our Standard Track. However, this track requires 7 days a week availability and 6 scheduled activities per week when in active training. This track is designed for future pilots that are looking for a fast start towards their Professional Pilot Career and for those looking to take advantage of the growing demand for the airline pilots. Students will complete their CFI ratings with an average of 206.5 flight hours.
The completion time for each rating is reduced from 1-6 weeks, depending on the rating, which ultimately saves pilots about 6 months on their training. The private pilot course and certified flight instructor course can be completed in 3 months whereas instrument and commercial courses can be completed in as little as 2.5 months.
If you also choose to obtain your added instructor ratings, with being actively scheduled 6 days a week, you can obtain CFII and MEI ratings in about 2 weeks per rating. This option saves both time and money for the student and means they are able to start working as an instructor sooner. It also reduces the living costs as the student spends less time in training.
Most of our accelerated track training takes place at our Redmond Campus to take advantage of the better weather in Central Oregon.
What Can Affect the Duration of Flight School?
As I mentioned, these training tracks are designed to ensure that there is a pace for every student to meet their goals in their desired timeframe. It's really up to the student how much availability they have and how many activities they can commit to per week. We encourage students to consider the accelerated track as it gets them to their end goal more quickly but we understand that path does not work for everyone.
One either track, we still recommend consistency in your flight training to ensure you are progressing in an efficient manner and getting the most out of each lessons.
We hope this post helps you better understand the duration of flight school and the time students need to dedicate to each rating. If you're already envisioning yourself as a professional pilot, we invite you sign up for our airplane webinar to learn more or contact our admissions team at 1.503.726.3000 or info@flyhaa.com to arrange a phone call or in-person tour.